PERFORMANCE FEATURES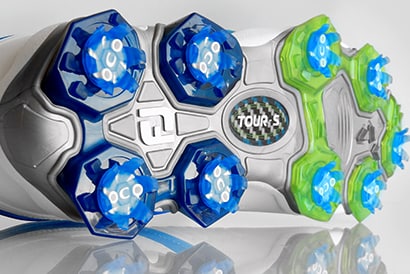 power
The Tour-S PowerPlate™ outsole provides an incredibly lightweight yet stable platform from which players efficiently transfer power throughout the golf swing. Built upon a foundation of a proprietary Pebax® polymer, that is typically 20% lighter than other polymers, the PowerPlate™ features an integrated carbon weave fiberglass mid-foot plate and nine LaunchPods™ to create additional structure, surface area, and ground coverage for maximum stability.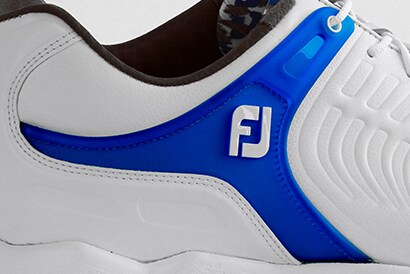 precision
The Tour-S features FJ's proprietary PowerStrap™, a molded component integrated into the shoe's upper to provide lock-down medial and lateral support. SecureCollar™ and ComforTongue™ technologies deliver a secure, precise fit round after round.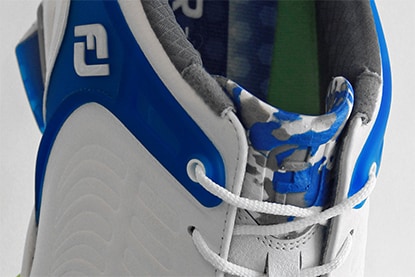 comfort
The Tour-S utilizes a dual-density PU Fit-Bed® to ensure all-day underfoot comfort and FJ's exclusive Premium Performance Leather (PPL) to achieve top grade feel, finish, and waterproof protection.
"The Tour-S shoes fit like a glove and are the most stable shoe I've ever worn. They are now, my 'Tournament Shoe'."

"Tour-S combines the best of various shoes. With Tour-S you don't sacrifice comfort to get stability and aesthetics. If is VERY comfortable and plush feeling while still being supportive. Trying to swing extra hard and put torque on my front foot still didn't get the shoe to move much. It stayed locked in and connected to the ground until I was in follow through. It felt like my feet were connected to the ground so I could really uncoil and generate power. Very impressed with the overall looks of the shoe but even more impressed with what they felt like during a golf swing."

"Top level comfort and top level performance, a great combination in a golf shoe. The look is sporty and edgy with classic design that work great together."
"The Tour-S shoes are terrific! Tremendous traction, exceptional stability, outstanding comfort. Typical FJ straight out of the box comfort. They clean up beautifully with just water and a terry cloth towel. If you try these, you definitely will be pleased."

"The heel collar really does an excellent job of holding the ankle and heel in place and the Power Straps give you just a bit extra security in the fit."

"I feel confident in every single shot wearing the Tour-S shoes and believe I have an advantage over everyone else on my feet"
ADAM SCOTT AND THE TOUR-S